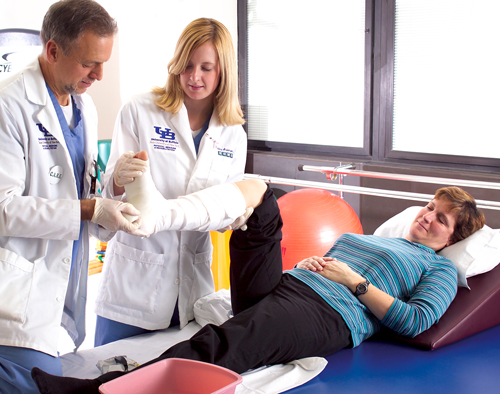 Do you have TMJ? This painful condition can make it difficult to chew, to eat, and even to talk. That's because it centers in the temporomandibular joint in your jaw. That's the main joint that causes your jaw to hinge and unhinge. Unfortunately, this joint is connected to many tissues in the body. When your back or neck gets tense, it can pull on this joint and cause it to misalign or inflamed. Similarly, problems with your teeth can cause problems with this joint. If you clench your jaw at night, you will probably end up with TMJ eventually.
There are many ways to treat TMJ, but one of the most popular ones actually has to do with physical therapy. If you can train the muscles in your back to relax, or teach yourself to chew differently, or keep from clenching your teeth at night, you may find that your TMJ is greatly alleviated.
What a PT Can Do for Your TMJ
While physical therapists cannot move your teeth or change the way you position your jaw at night, they can do a lot of things to help your TMJ.
Most TMJ treatment involves changing your posture, or the way you hold your body all day long. If you sit at a desk a lot, you probably thrust your head forward without knowing it. This puts a lot of stress and strain on your neck and upper back, and that can translate into problems with your jaw, too.
Your physical therapist can help you change the way you sit. They can help you get a chair that is more conducive to good posture, and they can help you know what good posture feels like. They can give you exercises that will train your body to sit in better positions, and they can give you verbal or mental cues that will help you find the right positions for your body.
Many people find that simply changing up their posture alleviates many of their TMJ symptoms. However, you may need more than that. Physical therapy can also help you learn how to move your jaw correctly. Some people unconsciously move their mouths from side to side, or grind their teeth on usually when they chew. All of this can lead to TMJ symptoms.
When offering Temporomandibular Joint Syndrome treatment, your physical therapist will look at your whole body. If there is anywhere where you're holding tension that could pull on your jaw, they will help figure out why you're holding tension there and what you can do to alleviate it. This might mean standing and sitting differently, or chewing differently. It might also mean learning to use your limbs differently, and changing overall movement patterns.
At Colorado Orthopedic Rehabilitation Specialists, we have physical therapists who will know exactly what to do to help alleviate your TMJ pain. We know that you have many options when seeking TMJ treatment, but our providers will make it their first priority to get you feeling well so you can live your best life again.